There can be numerous reasons and occasions when you need to leave your dog alone. But, when you come back you see serious damage to furniture or property. That can be a result of separation anxiety in dog! In this article you will discover what exactly is Dog Separation Anxiety? Why a dog develops Separation Anxiety? How to treat separation anxiety in dog? And other related things.
What is Dog Separation Anxiety?
When a dog is separated from his pet parents or care taker, dog starts behaving in an abnormal way to showcase his grief. This behavioral condition is known as Dog Separation Anxiety.
From immediate to half an hour later, this anxiety can start arising anytime in dog. Further, this anxiety can last from few minutes to till the time pet parent comebacks!
Treatment for this condition is necessary to make your dog calm and happy.
But for that you should be able to understand various signs of separation anxiety. These signs can easily be misunderstood as other behavioral problems too. So your fine judgement of situation is necessary to understand dog separation anxiety.
Understand 08 Signs of Dog Separation Anxiety
If a Dog is suffering from Separation Anxiety, generally he showcases following behavior when left alone.
Excessive and unnecessary barking, crying or howling which is otherwise not a part of his normal behaviour
Destructive chewing such as damage to furniture
Digging or scratching at doors and windows
Vomiting or defecation in the house
Disproportionate panting or salivating compared to routine
Continuously trying to catch the tail or licking self
Self-harm
Not eating
06 Causes of Dog Separation Anxiety
Now let's dive into the major causes of Dog Separation Anxiety.
Lack of training: It is quite possible, unknowingly, pet parents have not taught the dog to be alone in his growing puppy days.
Major Change: Major change in lifestyle such as shifting to a new home or an adopted adult dog gets a new family such events can be a cause of separation anxiety in dogs.
Over Attachment: Who don't love an emotional bond with a dog? Every one of us loves it right. But, over attachment or over dependency on a particular family member can become a reason of dog separation anxiety.
Traumatic Event: Dogs have a feeling. They very well understand feelings of birth and death. So, death of a family member or death of a pet friend can put your dog in anxiety situation.
Negligence or Over Attention: If a dog is neglected repeatedly for a long time by pet parent or care taker this negligence can convert in to a separation anxiety. At the same time, paying attention to a dog when it was not required (over attention and over pampering) can also cause separation anxiety in long run.
Vacation: Going on a long vacation leaving your dog back at home can give him a setback which intern becomes a cause of dog separation anxiety.
08 Methods To Deal & Cure With Separation Anxiety in Dogs
Treating this condition is necessary. Your ultimate aim is to make your dog stay happy even when you are not around. Treatment of Dog Separation Anxiety is not difficult as it can be done without any medical professional help in most cases. It goes without saying that you need to be persistent in your efforts.
1. Early Training: The sooner the better also applies to Dog Separation Anxiety treatment. If you have just got a new puppy in your house develop a habit to leave him alone for 15 to 30 minutes a day from the very first week. You have to remember you are doing this for his long term benefit, so control your emotions. If you have brought German Shepherd Puppy here is the training guide for German shepherd Dog.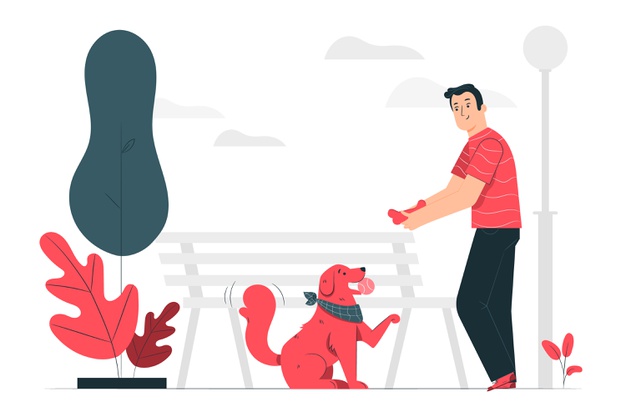 You have to remember you are doing this for his long term benefit, so control your emotions.
2. Train To Stay In Different Room: Leave the puppy in a separate room. You stay in nearby area of the home. This way he will be able to sense your presence but still will not be able to see you.
Ensure where you are keeping your puppy or dog, there is minimum furniture or articles which he can chew or damage.
If your dog is already suffering for separation anxiety, start it with a small period of a minute and drag it to 20 to 30 minutes over a period of few months.
3. Toys, TV and Indirect Presence: While you leave your dog remember to give him soft toys. He may not play with it initially but that is ok. Eventually he will.
You can keep the TV or soft music on if you are going away only for a few hours. Sometime dogs develop habits to watch TV or listen to soft music and sleep.
Remove his collar or chains while leaving so he feels less stressful. Keep your belonging such as laundry clothes or socks in the area where you are keeping your dog. This will give him indirect signal that you will come back.
4. Control Your Kindness: Once the staying alone period is over you have to keep control over your kindness. Don't let your puppy learn, that you were worried about his staying alone period. Don't give him any special attention. Let him remain present among all the family members, normally.
5. Alter Your Leaving Home Indications: Every one of us follows peculiar steps which gives indication that we are going away from home. Dogs are quick to decode these indications.
If you have a multiple door house, leave from a door which your pup or dog cannot see.
Before 15 to 20 minutes of your departure, leave office bag, goggles, bike or car keys, tiffin, etc near your exit location or a different location in a way so those things cannot be seen by your puppy or dog.
If you do it successfully, it will break your dog's association with these actions and will not activate separation anxiety. He will learn staying alone is not difficult.
6. Tier Your Dog With Exercise While Leaving: You need to play smart. A tired dog looks for food or sleep. So, plan his walk or exercise of 30 minutes right before your leaving. This way his mind will be distracted from a separation anxiety.
7. No Fuss At Leaving or Coming Back Home: Under playing your leaving and coming back is necessary. If you become too emotional at the time of leaving home or show over excitement at coming back it can re-establish fear of staying alone. So remember no fuss.
8. Dog House: Don't allow your dog to sleep along with you or in the same room. Rather, invest in a dog house. Give him some treats there. Make him learn that it's his individual space. This way he will be independent and will not feel stress when you leave him alone.
Patience is necessary in everything, so is true in the case of Dog Separation Anxiety. Nothing will change overnight. So start practicing these steps slowly and gradually.
Remember to share it with dog owner