The German Shepherd dog is often abbreviated as the GSD and is known as Alsatian in Britain and Ireland. Once they were known as Deutsche Shafa Honed or DSH in German. Attractive look and exceptional intelligence have made the German Shepherd one of the most desired dogs of all time.
German Shepherds stand out for having a widened wedge-shaped head. Their medium sized erect and pointed ears are the most distinctive feature and catch the most attention in the upper part of their heads. GSD's tail is long and can reach the hawk when it hangs at rest.
The courage of German Shepherd is legendary as is their defence instinct. But, courage and defence are not the same as aggressiveness and danger. It's true that German Shepherd are suspicious of strangers but GSD are not an aggressive by Nature. On the contrary, they tend to be alert but do not attack without a reason.
German Shepherds are classified into the herding group but are most often used in obedience, protection work, search & rescue, military as well as police work.
GSDs are often best known for the sport of schutzhund, which translates as protection dog. It is a sport specifically designed for the German Shepherd to harness their three primary skills obedience, protection and tracking.
German Shepherds are vigilant, protective, extremely obedient and intelligent dogs. If you're looking for a great companion, consider a German Shepherd Dog but be aware of the work it will take to train socialize and exercise your dog. My Love My Pet is will give you all the necessary information you might need to decide whether a German Shepherd Dog is right for you or not? So continue reading.
German Shepherd Breed Dog Physical Attributes
Dog Breed Group: German Shepherds are a medium to large working dogs.
Height: Male dogs measure 60 to 65 centimetres at the withers whereas females measure between 55 to 60 centimetres at the withers.
Weight: Male German Shepherds weigh in the range of 30 to 40 kg and Female GSD weigh in the range of 22 to 32 kg.
Life Span: German Shepherds have an average lifespan of 9 to 13 years. Many of them can reach the upper side of this if they are bred well, cared and loved.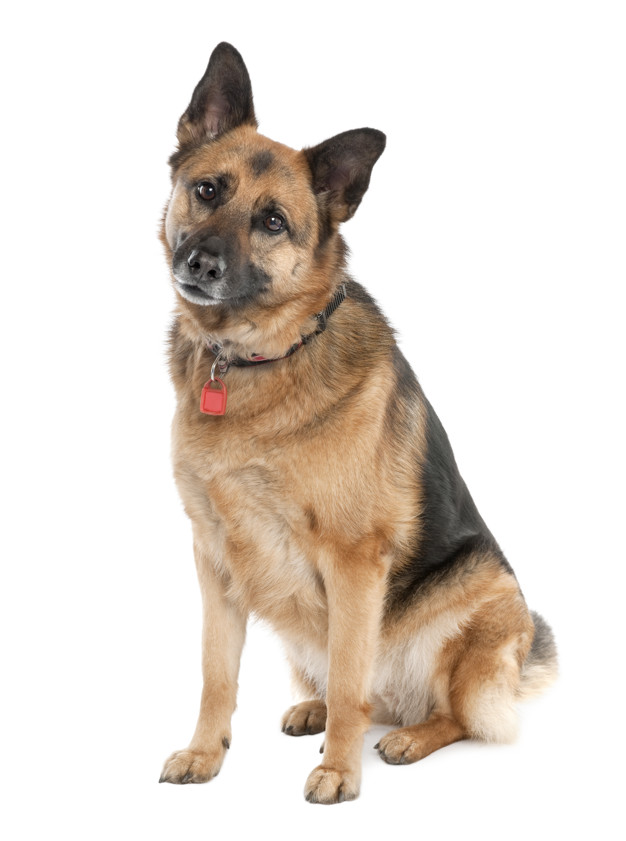 Coat: If we refer the official guidelines of German Shepherd then the coat should be double layered with internal firm and the outer fur should be as dense as possible, straight, hard and well attached to the body.
German Shepherd Double Coat have several different colors and patterns, the most popular is probably the black & tan and sable – the rin-tin-tin look and it can range from a light tan to a deep mahogany mixed with the standard black the pigmentation can run from light to dark.
Bicolour dogs are those that have mostly black coat with brown leg and undersides the solid black. German Shepherds are solid black with no other color present anywhere on their coat. Sables is a mix of silver gray and tan hairs tipped with black. The sable is considered the original dog sharing its DNA with their wolf ancestors.
White German Shepherds are banned from registration in Germany and are seen as a flaw. Some people specifically breed for the white German Shepherds but breeding for color alone is not the best idea because of the inbreeding and genetic issues that can arise.
German Shepherd Puppy Training Requirements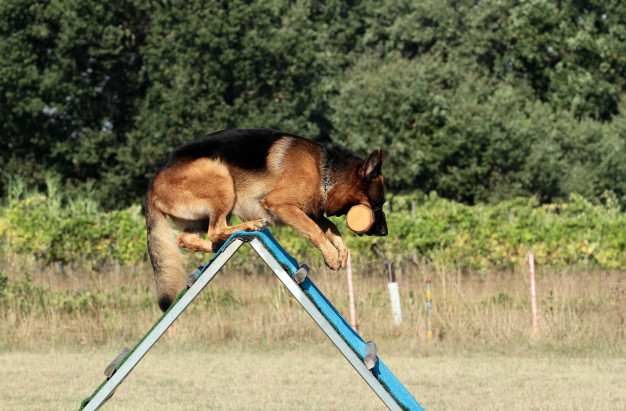 Starting training in puppy days of German Shepherd will result in a better adult GSD. This is why it will be essential to work quickly in the development of the dog socialization. A good training will help you avoid the appearance of behavioural problems in the adult stage.
Give them a chance to meet other dogs and humans, taking them to a dog club would be a great idea to socialize them. Socializing helps them to become a good natured and confident dog. Due to  German Shepherd Dog's tendency to develop good bond with  children they are also known as babysitter dogs.
To keep the dog mentally healthy, regularly you need to invest time in basic to work obedience and tricks. You must include many environmental enrichment sessions all based on positive reinforcement, in the training of German Shepherd Dog.
Here is an article which gives step by step process for German Shepherd training.
German Shepherd Dog Type
German shepherds can basically be broken down into a three different types 1. Show lines, 2. Working lines 3. Pet lines
Show line German Shepherd Dogs:
The show lines are further divisible into a Casey and you Casey type show dogs and the Seger working show line dogs.
The a Casey or you Casey line dogs are known for their extreme looks. These German Shepherd Dogs are generally larger in size and some nearing over 45 kg weights. They tend to show over angulation or the slope in the lower backs. This has become more and more common in recent years and has received much criticism.
These type of German Shepherds often do a little more than their conformation shows and perhaps some basic obedience. But, they're basically not cut out for the hard work that was intended for the German Shepherd Dog.
The Seeger type show line dogs are bred for both temperament and looks. In these German Shepherds, there is less angulation, more moderation in size and these dogs will need to show protection skills as well as obedience skills to receive their ratings. These ratings are very important for potential breeding
Good breeders will only breed to a title and paper dog, this is very regulated in Germany.
Working line German Shepherd Dogs :
Working line German Shepherds are often not considered as pretty by some people as the show line dogs. But, they are bred for solid conformation, temperament and workability.
These German Shepherds are often higher drive energy and need more of a working home in order to be successful.
Proper socialization is the key to prevent dog or human aggression. Further, these dogs require a strong handler. Working line German Shepherds also need a sense of structure and require regular training to thrive. Daily training, proper socialization and good genetics all will help these dogs be the very best they can.
Remember, working line dogs do not do well in non-working environment. They can become destructive these.
German Shepherds are only suited for a trainer or handler who will give the dog the training and stimulation that this type of dog needs.
Show line German Shepherds are often softer on their nerves and may not be able to handle the stresses of a working life and should not be placed into a situation that will cause them to fail.
Show line dogs oftentimes make much better pets for people, since their need for stimulation is drastically less than their working line counterparts.
Pet Line German Shepherd Dogs: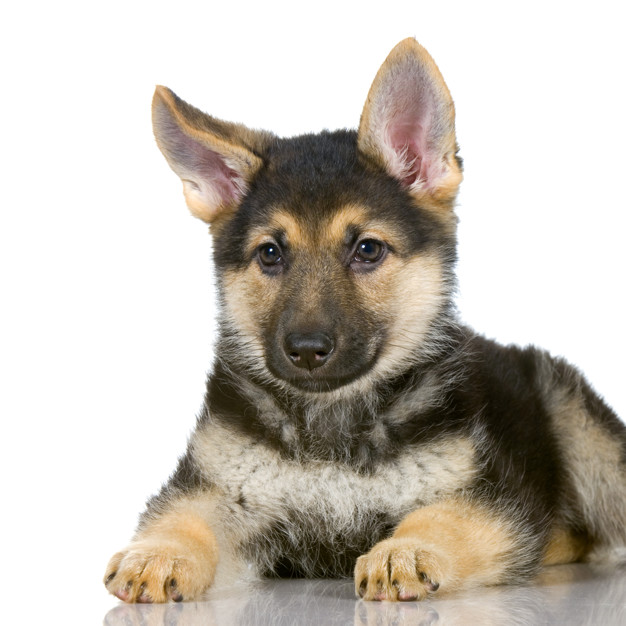 Another type of German Shepherd is the everyday pet line dog. Most of the times these dogs come from either unregulated backyard type breeding or fallout from the working and show line dogs.
My Love My Pet would recommend to look at the dogs from a good solid working line or show line dogs that didn't make the cut rather than to looking to a dog that was bred by a backyard breeder.
When breeders find a puppy that's not cut out for the specific purpose they still have all the good genetics that they were bred for but they don't have the basic skills or ability to cut it in either the show line or in the working line, breeders will often sell these puppies off to a pet home then they'll often ask the owners not to breed this dog because it's not a proper continuation of the breed.
How much exercise is necessary for a German Shepherd Dog?
German shepherds can adapt to living in an apartment but they need a lot of exercise and long walks. To remain healthy take them with you whenever you go out for a walk, play different games with them like playing fetch Frisbee or chasing them around the yard.
GSD are agile and active and that's why they need to exercise their muscles outdoors. A small garden can help but it should never replace the walks and play sessions. If German Shepherds don't get proper exercise, their muscles will be locked and they are more likely to get joint diseases.
German shepherds can adapt to living in an apartment but they need a lot of exercise and long walks. To remain healthy take them with you whenever you go out for a walk, play different games with them like playing fetch Frisbee or chasing them around the yard.
GSD are agile and active and that's why they need to exercise their muscles outdoors. A small garden can help but it should never replace the walks and play sessions. If German Shepherds don't get proper exercise, their muscles will be locked and they are more likely to get joint diseases.
Any type of canine sports such as agility can help maintain the dog's health. Ensure 2 hours activity every day!
Nutrition & Food for German Shepherd Dog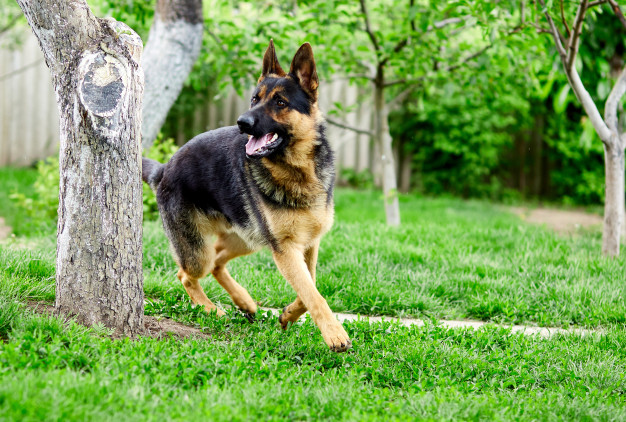 Quality food without corn for proteins is necessary for German Shepherd.
GSD who are fed twice a day are more likely to assimilate their food efficiently and are less likely to be subjected to digestive disorders.
Give meals three times a day till 3 months of age after that you can feed them twice a day. German Shepherd usually drink a lot, make sure they have a bowl filled with clean water and check on that bowl several times a day.
If you select a good quality commercially produced food for German Shepherd, the budget will be around Rs.3,000 a month. If you go for premium quality food with meat you should be ready to spend Rs. 4,000 to Rs. 5,000 a month.
General Health Care of German Shepherd Breed Dog
It is sad that extensive popularity of German Shepherd has motivated haphazard breeding with pure commercial aspects only. Due to this practice, GSD breed was negatively affected and today German Shepherd is prone to some hereditary diseases such as hip dysplasia, elbow dysplasia, chronic eczema carrier, digestive problems, epilepsy, Titus inflammation of the cornea and dwarfism.
Despite offering good care to this dog breed, visit the vet every six months. Deworming them and following their vaccination schedule you will be able to enjoy with them for a long time.
In the first year, you need to plan a budget for 10 to 15 thousand rupees for all vaccines, medicine and vet consulting cost.
Grooming Requirements of German Shepherd Breed Dog
As German Shepherd Dog coat don't require special cut maintenance is comparatively easy. However this breed sheds a lot constantly. So, daily brushing is important. Brush them with a soft bristle brush; make the grooming process enjoyable for them.
Bathing should not be very frequent because it damages the natural protection of German Shepherd hair.
If a dog becomes very dirty take your GSD to a vet or dog spa, the vet or dog spa staff will give your dog a proper bath.
It is necessary to check your German Shepherd Dog regularly so he can be saved of unpleasant smell, body infections and worms.
If you decide to go for professional grooming services then it will cost you 3 to 4 thousand rupees for a session of bath, nail trimming, teeth brushing, earn cleaning, paw & palm cleaning and brushing the coat.
How Much German Shepherd Cost in India?
Price of German Shepherd in India depends on many aspects such as age, sex, type, location, breeder, etc. But broadly you should be ready to spend at least Rs.15,000 for a German Shepherd Puppy.
However, German Shepherd puppy cost in India can go in to lakhs, if you decide to opt for show quality puppy with tracked bloodline of both the parents. Finding good breeders of German Shepherd in India is little difficult but not impossible. If you buy from a reputed breeder, you might need to premium of 5 to 10 thousand ruppes. But, that is worth for long term. Avoid buying a GSD puppy from puppy mills as they are not raised in the best of conditions.
Some Frequently Asked Question About GSD Breed
Are German Shepherd dangerous? Many German Shepherds have aggressive tendency in that scenario GSD can be dangerous. But, early socialization, proper training and sufficient outdoor activities will keep the dog in best of temperament and will act is family member only.  
Are German Shepherd friendly? Yes, German Shepherds are friendly with humans and other pets, including cats. They are known to be protective of their family members.
Can German Shepherd live in apartment? Yes, but you need to ensure sufficient outdoor activity if you are staying in apartment. Don't compromise outdoor activity of GSD otherwise he will develop joint pain. 
German shepherd vs Doberman Both breeds have their own pros and cons. If we compare them on various parameters like Lifespan, Health, Intelligence, Kid Friendliness, First time owner, training, exercise, etc  German Shepherd will emerge as winner. For detailed comparison of German Shepherd Vs Doberman read this article.
German Shepherd Images & Photos
Have a look at various moods of German Shepherd. Some of the German Shepherd puppy and dog images are by our fans and followers on Instagram & Facebook do follow us.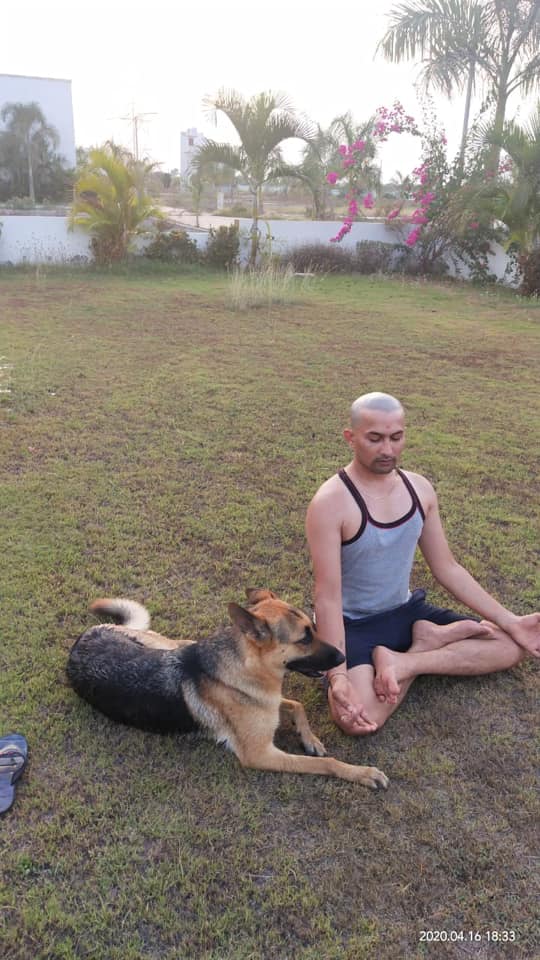 Conclusion
If you're looking for a great companion consider a German Shepherd but My Love My Pet advises to be aware of the work it will take to train socialize and exercise your dog.
Be extremely careful when choosing your new German Shepherd and remember that taking the puppy home today means a 10 plus year commitment to that dog.
The German Shepherd is an easy to train and reaches their full potential when trained through positive reinforcement. If you can take good care and give required attention GSD can be an excellent companion of your family.
German Shepherd dog is a loving breed and crave for your love and attention so don't beat them, don't yell at them and never scold your GSD.
Submit your pet story today. CLICK HERE