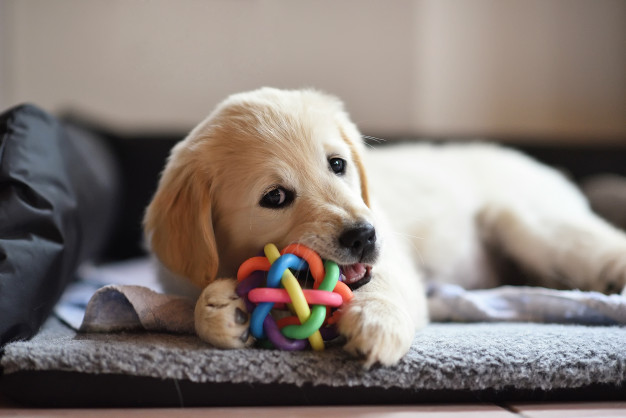 Many pet parents have this question, how to select the right dog toys ? You select the wrong one and soon the dog destroys it or gets himself hurt with it. And you must avoid either situation till the time possible. That's why providing your dog with perfect dog toys is an important part of your relationship.  
My Love My Pet strongly believes, you can use your toys to develop your relationship, to teach important skills & behaviours and make life a lot more fun.
Dog toys categories
Broadly we can divide dog toys into four categories Chew toys, Dental toys, Interactive toys and Plush toys.
Nature of these toys is fairly self-explanatory, but how to use them in the most effective way is not known to many. Don't worry My Love My Pet will do the hand-holding part. Let's explore one by one.
Chew toys for a dog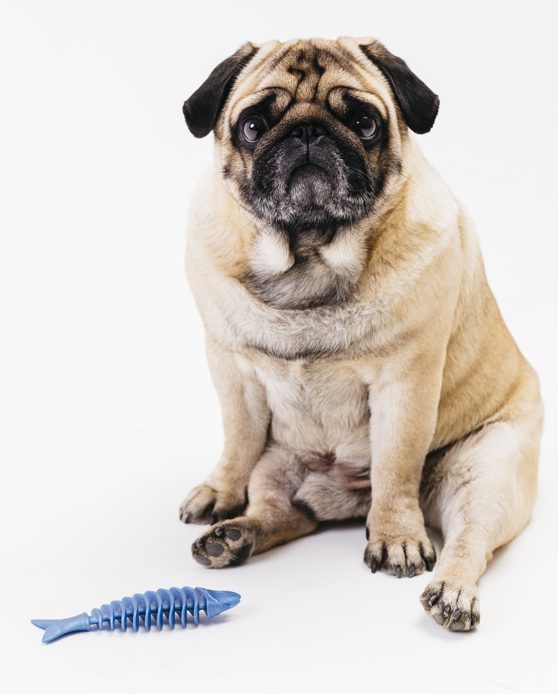 The most common and most used dog toys are chew toys. They are developed for rough use like chewing, distortion and beating. To suffice these purpose dog's chew toys are normally crafted from rubber or silicone. To meet the requirement of various size dogs, chew toys come in numerous sizes and shapes. 
Dental toys for the dog
Dental toys are also a pretty obvious category. Dental toys contribute in teeth scrubbing, gum massage and enhancement of blood flow. If required, these dental toys can be supplemented with dog toothpaste.
Dental toys are specially designed with ridges, knobs, fins and scales which contribute to the oral hygiene of a dog by the activity of chewing. While these toys last long, 100% consumable dental toys are also available in the market.   
Interactive dog toys
Interactive dog toys include retrieval toys like tug toys, balls, Frisbee disc, etc., and puzzles as well as games. Here dog does a lot more than just laying down and chewing. Such toys help a lot in developing cognitive skills in a dog along with physical stimulation.

Plush toys for the dog
You must have seen various stuffed characters and shapes, yes those cute looking characters are known as plush toys. Though, some of them are flat and known as flatties. Plush toys are available in a wide range of sizes and shapes to suit the requirement of dog breed and age.
So now we are aware of the dog toys category. Normally pet parents buy toys from these entire categories and give free access to the dog. They think they are doing the best for their dog. But, actually, that is not right. Each toy has a specific purpose or can be helpful to you in training and developing skills.
Use of Dog Chew toys
Chew toys should be freely available all the time. It is advisable to train your dog or puppy from the very first day with chew toys. If you have not invested in it, you can start it from today.
Endorphin is the reason for happiness and satisfaction in your dog and it gets released while the dog undergoes a chewing process. In general, chew toy trained dogs require less or no supervision when left alone.   
For feeding new dogs and puppies hand feeding and chew toys, like Kong, are highly recommended. No need for any special food, your routine food is ok. Just ensure sufficient quantity inside the chew toys. This will be very convenient; especially when you need to leave the house or you need to be engaged in other activities.
If your puppy is undergoing crate training, tying food-filled chew toys inside the crate will be very helpful in training. You can tie such chew toys to a tree if your dog needs to spend some time outdoors.
As you are filling the chew toys with the dog's routine food it helps in ensuring balanced nutrition as well as taking away your dependency on treats. Dogs love treats but treat should not be more than 10% of daily calorie intake. Let the routine food be a reward for training and preserve treats for special commands and skills.
Such chew toys help train a dog to spend time alone and eliminate destructive behaviours which is normally a result of boredom and isolation stress. This is quite different than separation anxiety.    

How to Use Dental Toys for Dog?
All-time access to dental toys is not a problem but if you are advised to use toothpaste, with such toys, in that scenario remember to withdraw access to routine chew toys.
Dog toys used for the dental purpose must be monitored and cleaned after each use. If you notice massaging studs are teetering or any other part starts to come off that dog toy must be discarded.
Any dog toy which is too distorted or becomes too small for your dog (maybe the breed is growing fast) must be retired.  
Interactive Dog Toys Usage
Interactive dog toys should not be kept out and should not be easily accessible to a dog or puppy, even though some of them are your dog's favourite. These toys should mean its playtime and therefore you should be the decision-maker about what to play and when? By limiting access you can use interactive dog toys as a reward for training. Isn't it great?
Dog training should not be dependent only on treats. Interactive dog toys like Tug can help you eliminate treat dependency for behavioural training. Tug toys offer a chance of learning and bonding. By playing tug with your puppy you can expect him to be a soft mouth. You need to start by teaching rules and commands like Take it or Drop it. Interactive dog toys help a lot for the same.     
Dogs can go crazy for squeaker toys! Yes, squeaker can activate the high level of arousal and motivate the dog to dissect the toy to get it. And that is not a good habit. Therefore, interactive dog toys without squeaker should be considered as the best.  
Plush Dog Toys Usage
Many dogs just love plush toys. Dogs carry such toys to every corner of the house. Due to internal stuffing, dogs have a better grip on the toy. Many a time, dog tear off and destroy toys like; they are killing their prey.
But, as a responsible pet parent, you should not allow this. When dog rip of the toy, stuffing can go anywhere and if the dog swallows some portion it can create GI obstruction.
Further, by allowing such destructive activity you are training the dog to tear apart other things like slippers, newspaper, wallet, shocks, cushion, etc.
Your dog must be trained not to destroy any of plush toys. For that, you need to showcase softness and kindness towards plush toys so your dog gets an idea that he cannot take it in his mouth and tear apart. You need not use a treat for this, as the toy itself is the rewarding element in this process.
Before the teething age of the puppy, plush toys are a good choice but afterwards, supervision is required in initial days. Here you need to ensure which toys are his and which other stuffed toys belong to some other member of the home.
Conclusion: So, at My Love My Pet we expect you have got a fair idea about dog toys categories and how to use them. As discussed each dog toy has a different purpose and it depends on the breed and age of the dog. If you take advantage of training your dog with various toys, you should be able to develop healthy behaviour and a great bond with your dog.